Title/Series: Caucus Sumakh
Date: 19th Century
Materials: Wool
Dimensions: 8ft.7in. by 6ft.1in.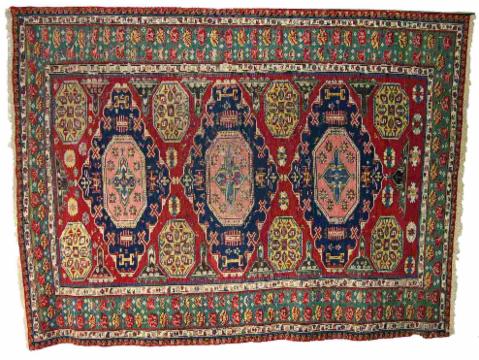 Description: This piece belongs to a group of carpets from the region of the southern Caucus Mountains executed in the flat sumakh technique some time in the late nineteenth century. These weavings are popular both for their sheer and beauty and decorative potential as well as their historical and ethnographic significance and are a favorite with both collectors and interior designers.
Sumakh's are known for their vivid colors and bold graphics and with these factors taken into consideration this particular piece must be seen as one of the preeminent examples of its type. The rich and diverse palette of red, greens, blues and yellow are all derived from traditional vegetable dyes. The various geometric elements are superbly balanced and the border with its cluster of flowers is exceptional for both its elegance and rarity.
This piece in its current condition is suitable for both the floor or may be used as an elegant wall hanging.